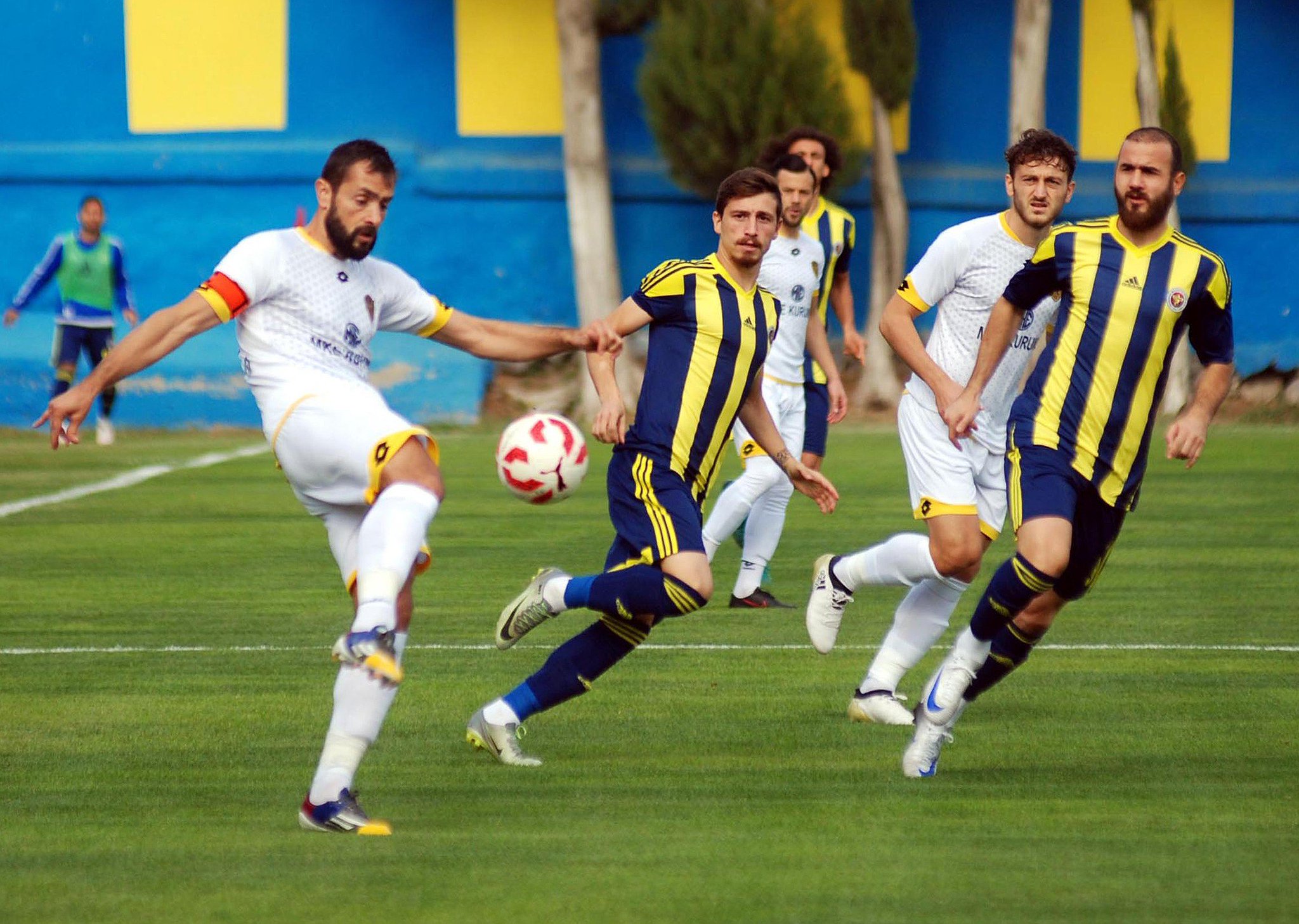 Ankaragucu were brought back down to earth with a bang after a disappointing 4-3 defeat at Menemen this afternoon. After a fantastic 6-2 win in front of near sold out 19 Mayis Stadium on Wednesday night, its just like Ankaragucu to slip up in the next game. As I said in the group chat, every time there is something positive happening at the club, the bad news is just around the corner. Today's performance was no fluke, Menemen deserved their victory and this was all despite being down to ten men late in the match.
Team - Emrah Tuncel, Sezgin Coskun, Adem Saglam, Alihan Kubalas, Onur Atasayer, Ferhat Culcuoglu, Harun Aydin, Orhan Gulle, Omer Bozan, Mustafa Ozturk, Muharrem Ozan
Subs - Emre Koyuncu, Metin Aydin, Mehmet Tasci, Onur Bayramoglu, Ahmet Yazar, Enes Kubat, Erhan Senturk
Ismet Tasdemir kept faith with the same team who won on Wednesday meaning Enes Kubat and Erhan Senturk both found themselves on the bench. There is a worrying trend occurring with Ankaragucu and it needs to be addressed otherwise we can forget challenging Gumushanespor for the title. Our defence has now conceded 6 goals in 2 games and it has been a concern since the season started.
We continue to struggle with crosses into the box, and the Goalkeeper Emrah Tuncel looks less than convincing. Any team who goes away from home and scores 3 goals should be coming home with the 3 points. You can't win titles giving away needless goals.
Ankaragucu started the match on the front foot, passing the ball well and looking to attack right from kick off. It took only 2 minutes for the home side to take the lead though against the run of play. A cross into the box found its way to the unmarked Gokhan Unal who rose to head the ball past Emrah to make it 1-0 Menemen.
Ankaragucu looked to push for the equaliser and a nice move involving Harun and Onur found its way to Muharrem Ozan but his effort on goal was blocked. Two minutes later Ankaragucu were back on level terms through Omer Bozan. A nice shot from the edge of the area into the bottom corner gave former Ankaragucu goalkeeper Bayram Olgun no chance.
Menemen nearly went in front after 18 minutes from a carbon copy of the 1st goal, a cross into the box met by the head of Gokhan Unal but this time he headed wide of the post. It has to be mentioned, the Menemen fans were fantastic and even had a little jazz band playing songs through the game which added to the atmosphere in the 2,500 sold out stadium.
Another chance for Menemen when a shot from distance straight at Emrah was parried and then cleared for a corner. The Ankaragucu goalie looked very unconvincing.
On the 33rd minute Ankaragucu were awarded a penalty after a foul in the area. Up stepped Omer Bozan to stroke the ball home and put Ankaragucu 2-1 up much to the joy of the visiting fans.
There was 1 last chance left for Menemen in the first half with a free kick that was deflected inches wide of the corner. Ankaragucu went in 2-1 up at half time but Menemen were still in this match and could find themselves unlucky to be trailing.
After 61 minutes Menemen nearly equalise but Emrah made a good save to keep it 2-1. Five minutes later a curling effort on goal went inches wide from Menemen and was deflected behind for the corner. From the resulting corner Ankaragucu again failed to defend a cross into the box. The ball found its way to Efe Karaoglu whose headed was saved from Emrah but Efe was first to the rebound to put the ball into the back of the net. 2-2.
It was all action now and 5 minutes later Gokhan Unal was red carded for Menemen after kicking out at an Ankaragucu player in front of the referee.
It took Ankaragucu only 2 minutes to take advantage of the extra man, a low cross into the box found its way to Onur Atasayer who put the ball into the back of the net. 3-2 Ankaragucu and looks like another 3 points in the bag? Wrong
Menemen took the game to Ankaragucu and had two excellent chances. The first effort was saved by Emrah and then another shot from distance was saved again. Their persistence paid off 4 minutes later though when Tayfur Emre Yilmaz put the home side back on level terms.
It looked like we were heading for a disappointing 3-3 draw when on the 89th minutes Erman Kilic stepped up from 30 yards to curl and outstanding free kick into the top corner to make it 4-3 Menemen and send the home fans wild.
An excellent win for Menemen and well deserved too. They worked harder, created more and ultimately never gave up even when 3-2 down and having a man sent off.
Ankaragucu need to forget this result and start working on the defensive issues on the training ground this week. Gumushanespor won 3-2 against Kastamonuspor and now go 3 points clear at the top. They are also at home to Tokatspor next weekend who haven't won a game all season while we host Polatli Bugsasspor.